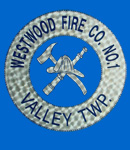 2017 Fire Call Stats
Jan
25
Feb
21
Mar
25
Apr
29
May
18
Jun
22
Jul
20
Aug
19
Sep
14
Oct
0
Nov
0
Dec
0
Total
193
2017 EMS Call Stats
A44
A144
Jan
111
131
Feb
91
101
Mar
109
126
Apr
105
141
May
105
132
Jun
95
104
Jul
85
127
Aug
100
116
Sep
90
120
Oct
0
0
Nov
0
0
Dec
0
0
Total
891
1098
Past Call Stats
Year
Fire
EMS
2016
289
2484
2015
312
2329
2014
310
2388
2013
259
2294
2012
284
2045
2011
308
1278
2010
275
621
2009
304
639
2008
314
707
2007
321
663
2006
316
727
2005
344
796
2004
349
742
2003
388
625

Visitors Today:

Visitors Since
September 16, 2005:


Vehicle Versus Utility Pole on Strasburg Road
By Assistant Fire Chief Adam Grossman
February 19, 2017

Just after 2100 hours the Westwood Fire Company for Fire and EMS were dispatched to the 200 block of Mount Carmel Road in East Fallowfield for an auto accident. Reports indicated a vehicle had struck a utility pole and one injured subject on scene.

Deputy Chief Scott arrived and confirmed the report and established Strasburg Road Command, updating the location to Strasburg Road. Fire Police from Westwood shutdown Strasburg Road between Mount Carmel Road and Windy Hill Road.

There was no Entrapment so fire services were required. Rescue 44 proceeded in to provide lighting. Ambulance 44-1 evaluated one patient on scene.

Units:
Rescue 44, Ambulance 44-1, Command 44
Rescue 44 and Ambulance 44-1 on scene of a vehicle accident in East Fallowfield.