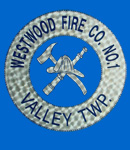 2018 Fire Call Stats
Jan
22
Feb
16
Mar
17
Apr
0
May
0
Jun
0
Jul
0
Aug
0
Sep
0
Oct
0
Nov
0
Dec
0
Total
55
2018 EMS Call Stats
A44
A144
Jan
123
144
Feb
104
139
Mar
98
125
Apr
0
0
May
0
0
Jun
0
0
Jul
0
0
Aug
0
0
Sep
0
0
Oct
0
0
Nov
0
0
Dec
0
0
Total
325
408
Past Call Stats
Year
Fire
EMS
2017
242
2562
2016
289
2484
2015
312
2329
2014
310
2388
2013
259
2294
2012
284
2045
2011
308
1278
2010
275
621
2009
304
639
2008
314
707
2007
321
663
2006
316
727
2005
344
796
2004
349
743

Visitors Today:

Visitors Since
September 16, 2005:


9/11 Ceremony, Never Forget
By Assistant Fire Chief Adam Grossman
September 11, 2017

The Westwood Fire Company spent the day remembering those who made the supreme sacrifice on September 11th, 2001. Whether it was the 343 firefighters that died on that tragic day or the 2600+ civilians and numerous other injured, America will never forget the terror that occurred.

The Westwood Fire Company was able to participate in two remembrance events, 1 being at East Fallowfield Elementary and the other being at Rainbow Elementary. Engine 44-5 was on site at Rainbow and Rescue 44 was at East Fallowfield. Thank you to the school staff for holding this event every year to never forget what happened on 9/11.

Units:
Engine 44-5, Rescue 44
Westwood and Modena Fire Companies at East Fallowfield Elementary.

Engine 44-5

All rainbow students waiting for the ceremony to start.

Chief McWilliams was presented a flag from the cub scouts.

Cub Scout Jake Wright presents a flag to a homeland security officer.