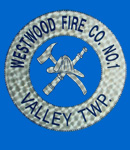 2020 Fire Call Stats
Jan
28
Feb
15
Mar
17
Apr
19
May
20
Jun
Jul
Aug
Sep
Oct
Nov
Dec
Total
99
2020 EMS Call Stats
A44
A144
A244
Jan
111
108
86
Feb
100
102
48
Mar
96
109
61
Apr
74
76
51
May
106
117
56
Jun
Jul
Aug
Sep
Oct
Nov
Dec
Total
487
512
302
Past Call Stats
Year
Fire
EMS
2019
275
2788
2018
249
2923
2017
242
2562
2016
289
2484
2015
312
2329
2014
310
2388
2013
259
2294
2012
285
2045
2011
308
1278
2010
275
621
2009
304
639
2008
314
707
2007
321
663
2006
316
727

Visitors Today:

Visitors Since
September 16, 2005:


Vehicle Accident with Rollover on the Eastbound Bypass
By Assistant Chief Adam Grossman
July 17, 2019

On July 17th, 2019 at 1545 hours the Westwood Fire Company was dispatched to the Route 30 Bypass in the area of mile marker 269.9 for an auto accident. The accident was reported with multiple rollovers and was on the eastbound highway just east of Airport Road. Battalion Chief Sly, Ambulance 44-1 and Rescue 44 all immediately responded.

Arriving at 1548, Battalion Chief Sly reported one vehicle on its roof at the end of the on ramp from Airport Road. EMS evaluated the victim and determined there wasn't any care required. Rescue 44 arrived and blocked the roadway from oncoming traffic to protect the scene.

All units cleared at 1605 hours. Traffic 44 remained on scene until 1654 hours to assist the police department and tow company with traffic control.

Units:
Rescue 44, Ambulance 44-1, Traffic 44, Battalion 44



Battalion 44 and Ambulance 44-1 on the scene.




One vehicle on its roof at the end of the on ramp from Airport Road.




Ambulance 44-1 on scene of an auto accident that rolled over on the eastbound Route 30 Bypass.




Rescue 44 blocks oncoming traffic to protect the first responders.




EMS personnel evaluate the scene.