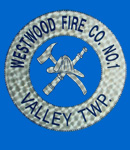 2021 Fire Call Stats
Jan
Feb
Mar
Apr
May
Jun
Jul
Aug
Sep
Oct
Nov
Dec
Total
0
2021 EMS Call Stats
A44
A144
A244
Jan
Feb
Mar
Apr
May
Jun
Jul
Aug
Sep
Oct
Nov
Dec
Total
0
0
0
Past Call Stats
Year
Fire
EMS
2020
272
3391
2019
275
2788
2018
249
2923
2017
242
2562
2016
289
2484
2015
312
2329
2014
310
2388
2013
259
2294
2012
285
2045
2011
308
1278
2010
275
621
2009
304
639
2008
314
707
2007
321
663

Visitors Today:

Visitors Since
September 16, 2005:


EMS Lieutenant Matthew Davison Achieves Paramedic Certification
By Assistant Chief Adam Grossman
July 21, 2020
We would like to congratulate Lieutenant Matthew Davison on becoming certified as a Paramedic. Matt is part of a group of students sponsored by Westwood to take paramedic and has now completed all of his exams. We are beyond proud of the hard work and dedication he has shown over the past year, and look forward to him continuing his career at Westwood in his new role. Job well done!