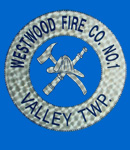 2022 Fire Call Stats
Jan
26
Feb
35
Mar
19
Apr
21
May
17
Jun
25
Jul
28
Aug
31
Sep
35
Oct
25
Nov
25
Dec
33
Total
320
2022 EMS Call Stats
EMS
Jan
345
Feb
273
Mar
324
Apr
346
May
398
Jun
374
Jul
401
Aug
400
Sep
580
Oct
578
Nov
635
Dec
695
Total
5349
Past Call Stats
Year
Fire
EMS
2021
295
3887
2020
272
3391
2019
275
2788
2018
249
2923
2017
242
2562
2016
289
2484
2015
312
2329
2014
310
2388
2013
259
2294
2012
285
2045
2011
308
1278
2010
275
621
2009
304
639
2008
314
707

Visitors Today:

Visitors Since
September 16, 2005:


Working Car Fire on Airport Road

Westwood Newsdesk, January 02

On January 2nd, 2023 at 12:35, the Westwood Fire Company was dispatched to the 300 block of Airport Road in Valley Township for an auto fire. Arriving within 1 minute of dispatch, Deputy 31 was in the area and reported a working car fire.

Rescue 44 and MICU 44-1 made an immediate response at the time of dispatch.

Rescue 44 arrived at 12:42 and went in service with the 1-3/4" crosslay to extinguish ... (Full Story & Photos)

Members Recognized for Clinical Life-saving Efforts

Westwood Newsdesk, October 25

This evening at the East Fallowfield Township meeting, the Board of Supervisors passed a resolution recognizing several local first responders for clinical life-saving efforts to resuscitate a victim who suffered a sudden cardiac arrest. Westwood Fire Chief Mike McWilliams, Firefighter/Paramedic Joe Marks, and Firefighter/EMT Justin Carro along with East Fallowfield Police Officers John Hewczuk and ... (Full Story & Photos)


Auto Fire in the Highland Corporate Center

Westwood Newsdesk, September 29

The Westwood Fire Company was alerted for an auto fire in the 800 block of Fox Chase Road, just off of Airport Road, on Thursday. The caller reported a truck on fire to the rear of a business. Engine 44-5 made an immediate response to the call.

Assistant Chief Grossman arrived first due reporting a truck well involved with exposure concern to a building. Engine 44-5 accessed the blaze from a rear ... (Full Story & Photos)


Westwood Expands Advanced Life Support Service

Westwood Newsdesk, September 01

After decades of service, TowerDIRECT "Medic 93" has ceased all operations in Western Chester County as of today, 9/1/2022. This has left much uncertainty for residents of the area questioning the availability of Advanced Life Support (ALS) services for the greater Coatesville and Eastern Lancaster County areas.

Since June, Westwood Fire Company leadership has been working non-stop in partnership ... (Full Story & Photos)


Modena Fire Company 100th Anniversary Parade and Celebration

Westwood Newsdesk, August 27

A milestone was hit this year for the Modena Fire Company, marking 100 years of service to the communities of Modena Borough, South Coatesville Borough and East Fallowfield Township. For the last 75 years of our existence, we have been working hand in hand with this great group of dedicated volunteers.

Today our company attended their parade and housing with Rescue 44, Engine 44-5, Deputy 44 Buggy, ... (Full Story & Photos)


Westwood EMS Divisions Receive Two AFG Grants

Westwood Newsdesk, August 26

Official notification of 2 federal grants was received today for the Westwood Fire Company totaling $118,050. This year's grant will help to purchase Advanced Life Support training aids for our rapidly expanding ALS service and a diesel exhaust extraction system for our Wagontown ALS division.

This brings our federal grant total to 24 awards since the start of the program over 15 years ago.

In ... (Full Story & Photos)

Westwood Celebrates 75 Years

Westwood Newsdesk, August 20

One of the first sparks in organizing the Westwood Fire Company was Chester Taylor, Sr. A fire broke out in the barn on the Janet Greenfield property. Chester Taylor, with a Model T Ford and a cider barrel for a water tank, had the fire under control when the West End Fire Company of Coatesville arrived. This was the beginning of the formation of a fire company later to be known as the Westwood Fire ... (Full Story & Photos)


Motorcycle Accident on Valley Road in Westwood

Westwood Newsdesk, August 16

On Tuesday August 16th, 2022 at 10:43, the Westwood Fire Company was dispatched to the 1000 block of Valley Road in Valley Township for a motorcycle accident. The caller to 911 reported a motorcycle had struck another vehicle and 1 male patient had a head injury. Witnesses later reported that there was not a second vehicle involved with the motorcycle.

Westwood Rescue 44, MICU 44-1 arrived on ... (Full Story & Photos)



Westwood Paramedics immobilize the patient and evaluate for injury.