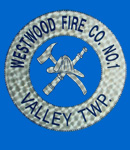 2021 Fire Call Stats
Jan
18
Feb
18
Mar
30
Apr
26
May
31
Jun
27
Jul
24
Aug
17
Sep
Oct
Nov
Dec
Total
191
2021 EMS Call Stats
A44
A144
A244
Jan
110
130
59
Feb
102
122
63
Mar
102
139
70
Apr
104
92
72
May
139
131
64
Jun
122
120
100
Jul
142
123
79
Aug
125
121
81
Sep
Oct
Nov
Dec
Total
946
978
588
Past Call Stats
Year
Fire
EMS
2020
272
3391
2019
275
2788
2018
249
2923
2017
242
2562
2016
289
2484
2015
312
2329
2014
310
2388
2013
259
2294
2012
285
2045
2011
308
1278
2010
275
621
2009
304
639
2008
314
707
2007
321
663

Visitors Today:

Visitors Since
September 16, 2005:


Important Notice

The 2020 Westwood Fire Company Ambulance Division Fund Drive is currently in the mail.

Please look out for this important mailer which helps the Fire Company continue to provide a cost effective service to our community.
The Westwood Fire Company is a predominantly volunteer organization that relies on our Community to keep us operating. We do not levy any dedicated fire taxes from our residents.

All of our operating expenses, such as electric bills, telephone bills, general maintenance, and capital expenditures for things like new fire trucks are generated by fundraising. We offer a few options for you to help support your volunteers.

Every Saturday, we play Bingo at our firehouse to help raise funds. In addition to our weekly Bingo, we will hold car washes or "boot days" in which you may see us at an intersection collecting donations.

The last source of funding is our annual Ambulance Service fund drive. Each year, we send out a notice for donations the Ambulance Division.

Sadly, only 28% of our residents on average return donations to us each year with the fund drive, providing us with around $20,000 to operate on.

More information on each type of fund drive is provided below. Please remember that your donations can be used as a tax incentive at the end of each year.

Another fund drive we send out is a beneficial Ambulance Fund Drive.

The Ambulance fund drive is usually sent towards the end of the year.

Our Ambulance fund drive includes information on our local Ambulance service and the projects and training we are working on.

As an incentive, we offer FREE emergency ambulance service to our residents who return the donation annually. More information about this program is included in the mailing.

The Ambulance Division mailing is sent to all of our residents in Valley Township, West Caln Township, West Brandywine Township, and the portions of East Fallowfield Township, Wallace Township, and East Brandywine Township that we serve.