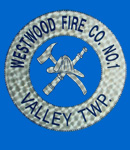 2020 Fire Call Stats
Jan
28
Feb
15
Mar
17
Apr
19
May
20
Jun
Jul
Aug
Sep
Oct
Nov
Dec
Total
99
2020 EMS Call Stats
A44
A144
A244
Jan
111
108
86
Feb
100
102
48
Mar
96
109
61
Apr
74
76
51
May
106
117
56
Jun
123
108
69
Jul
Aug
Sep
Oct
Nov
Dec
Total
610
620
371
Past Call Stats
Year
Fire
EMS
2019
275
2788
2018
249
2923
2017
242
2562
2016
289
2484
2015
312
2329
2014
310
2388
2013
259
2294
2012
285
2045
2011
308
1278
2010
275
621
2009
304
639
2008
314
707
2007
321
663
2006
316
727

Visitors Today:

Visitors Since
September 16, 2005:



Westwood Fire and EMS units participated in the "modified" 2020 graduation parade for high school seniors

Company Participates in 2020 Graduation Parade

Battalion Chief John Sly, June 12

On Friday, June 12, 2020 the Westwood Fire Company and several surrounding agencies took part in a "graduation parade" to provide many of the Coatesville High School Seniors with an opportunity to celebrate their success, while adapting to the restrictions of COVID-19.

The parade began at the Highlands Corporate Center in Valley Township, and came through our district down Lincoln Highway before ... (Full Story & Photos)


Passing of Life Member Mabel D. McCoy

President John Sly, June 06

On Saturday, June 6th, 2020 Mrs. Mabel McCoy passed away at the age of 93. Mrs. McCoy was a 40-year member of the Fire Company, serving many years on our Ladies Auxiliary.

Mrs. McCoy was the wife of Life Member Harold McCoy who passed away in 2008. Both Mr. & Mrs. McCoy could be found at the firehouse every Tuesday and Saturday night helping to support our Bingo games and working in our kitchen.

Mrs. ... (Full Story & Photos)



Mrs. McCoy was a Life Member who served the Fire Company faithfully for 40 years



A portion of the median was on fire on the Route 30 Bypass.

Brush Fire on the 269 Eastbound Bypass

Westwood Newsdesk, May 13

At 1721 hours the Westwood Fire Company was dispatched to the eastbound Route 30 Bypass in the 269 mile of Valley Township for the median on fire. Engine 44-5, Rescue 44, Ambulance 44-1, Traffic 44 and Chief 44 all responded within minutes.

Arriving at 1730, Rescue 44 located 100' of median on fire and went in service with the 200' trash line. Within minutes the fire was stopped and mopped. Crews ... (Full Story & Photos)


MICU Responds to Accident in Sadsburyville

Westwood Newsdesk, May 05

On Tuesday May 5th, 2020 at 1924 hours, the Westwood Fire Company for MICU 144, was dispatched as the second due BLS on an auto accident in Sadsbury Township. The accident was located on Lincoln Highway between Old Wilmington Road and First Avenue. The Sadsburyville Fire Company and EMS were dispatched at 1904 hours for the initial response.

MICU 144 made an immediate response and arrived at 1930 ... (Full Story & Photos)



MICU 144 responded as the second due BLS on an accident in Sadsburyville.



Mrs. Herman was the wife of Past Fire Chief Richard Herman

Passing of Joyce Herman

President John Sly, May 04

On Monday, May 4th, 2020 Mrs. Joyce Herman passed away at age 91. Mrs. Herman was the wife of Past Chief Richard Herman who served the Company as Fire Chief from 1961-1973 and was a mentor to many of the younger generations of firefighters.

For those who do not understand the sacrifices made by the wives and families of our Fire Chiefs, Mrs. Herman could still often be found assisting and supporting ... (Full Story & Photos)


Gas Leak on Falon Lane

Westwood Newsdesk, May 04

On Monday May 4th, 2020 the Westwood Fire Company was dispatched to the 200 block of Falon Lane in East Fallowfield Township for a gas leak outside. The call came in at 1424 hours and the incident was located in East Fallowfield Township across street of Weston Drive. The caller reported hearing a hissing noise coming from a structure and a smell of natural gas in the area.

Engine 44-5, Ambulance ... (Full Story & Photos)



Engine 44-5 on scene of a gas leak in East Fallowfield Township.



Chief McWilliams and MICU 144 on scene of the Reeceville Road House Fire.

Tanker and EMS Due on West Brandywine House Fire

Westwood Newsdesk, May 02

On Saturday May 2nd, 2020 at 1528 hours, the house fire assignment was alerted for the 300 block of Reeceville Road in West Brandywine Township, an East Brandywine Fire Company local. Other units were also on the response from Wagontown, Coatesville, Thorndale, Glen Moore, West Bradford and Lionville.

Arriving first due, West Whiteland Chief Miller reported a working house fire and a working fire ... (Full Story & Photos)


Thank you!

Westwood Newsdesk, April 24

Over the past almost 2 months, several members of the community have shown great support to our Fire and EMS Organization. Covering 6 municipalities with EMS, Valley, East Fallowfield, West Caln, West Brandywine, Wallace and East Brandywine, and 2 municipalities with Fire/Rescue, Valley and East Fallowfield, our personnel have been on the front line of this pandemic and we appreciate all of their ... (Full Story & Photos)



Our staff with a donated meal.