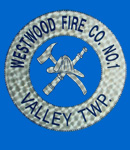 2022 Fire Call Stats
Jan
26
Feb
35
Mar
19
Apr
21
May
17
Jun
25
Jul
28
Aug
Sep
Oct
Nov
Dec
Total
171
2022 EMS Call Stats
EMS
Jan
345
Feb
Mar
Apr
May
Jun
Jul
Aug
Sep
Oct
Nov
Dec
Total
345
Past Call Stats
Year
Fire
EMS
2021
295
3887
2020
272
3391
2019
275
2788
2018
249
2923
2017
242
2562
2016
289
2484
2015
312
2329
2014
310
2388
2013
259
2294
2012
285
2045
2011
308
1278
2010
275
621
2009
304
639
2008
314
707

Visitors Today:

Visitors Since
September 16, 2005:


Motorcycle Accident on Valley Road in Westwood

Westwood Newsdesk, August 16

On Tuesday August 16th, 2022 at 10:43, the Westwood Fire Company was dispatched to the 1000 block of Valley Road in Valley Township for a motorcycle accident. The caller to 911 reported a motorcycle had struck another vehicle and 1 male patient had a head injury. Witnesses later reported that there was not a second vehicle involved with the motorcycle.

Westwood Rescue 44, MICU 44-1 arrived on ... (Full Story & Photos)



Westwood Paramedics immobilize the patient and evaluate for injury.


Serious Accident on the Route 30 Bypass

Westwood Newsdesk, August 12

On Friday August 12th, 2022, the Westwood Fire Company and Coatesville FD were dispatched to the Route 30 Bypass westbound west of Route 82 for an auto accident with possible entrapment.

Units arrived to find a tractor trailer that had collided with two vehicles that were pulled over on the side of the road. Fortunately, nobody was in the pinned truck at the time of the collision.

There was 1 ... (Full Story & Photos)


Tanker Assist on Telegraph Road House Fire

Westwood Newsdesk, August 04

Engine 44-5 was dispatched to the 2000 block of Telegraph Road in West Caln Township for a house fire on Thursday. Firefighters from multiple fire companies were summoned to the scene of this two-alarm blaze to bring it under control. Engine 44-5 is a 3,000-gallon pumper tanker which brings a large quantity of water, equipment and manpower to the scene. Firefighters battled this in blazing temperatures ... (Full Story & Photos)



Chief McWilliams on scene of the working house fire in West Caln.


Company Mourns the loss of Harvey McDonald

Westwood Newsdesk, June 19

The Westwood Fire Company regrets to announce the passing of Life Member and long-time bingo leader, Harvey McDonald. Harvey McDonald, along with his wife Betty, worked bingo at the Westwood Fire Company for many years and raised countless funds for the fire company operation. Harvey also regularly attended meetings and was always a smiling face to enjoy around the fire station. Below is the obituary ... (Full Story & Photos)

Structure Fire in the West End

Westwood Newsdesk, June 14

On June 14th, 2022 at 08:59, the Westwood Fire Company and mutual aid were dispatched to the 100 block of Strode Avenue in Coatesville City for a working structure fire. Engine and Ladder 41/43 arrived with smoke showing from the third story of a duplex. Crews went in service to extinguish the fire, ventilate and overhaul the fire room. ... (Full Story & Photos)

Passing of Fire Police Captain Dave Leary

Westwood Newsdesk, June 12

It is with deep regret that the Westwood Fire Company announces the passing of current Fire Police Captain Dave Leary after a valiant battle with cancer. Dave joined the Westwood Fire Company in 2003 after moving into Valley Township. Since that time, he has served the Fire Company and community in several capacities and roles as a Fire Police Officer.

Dave was also instrumental in organizing and ... (Full Story & Photos)

Now Hiring!

June 08

The Westwood Fire Company is currently seeking EMS applicants for the positions of EMT, Advanced EMT, and Paramedic.

The positions offer a competitive salary, along with company-paid medical benefits for full-time employees. Retirement packages, and opportunities for education and advancement are available.

Full-Time & Part-Time positions are available. ... (Full Story & Photos)

CASH Prom Escorting Alex Gensamer

Westwood Newsdesk, June 03

On Friday June 3rd, 2022, Rescue 44 chauffeured by AC Grossman had the pleasure of escorting Alex Gensamer to the CASH Prom night. Alex's mother Jessica is member of the company and actively participates on fundraising events and EMS. Congratulations all CASH seniors and we wish you all a safe and happy night!... (Full Story & Photos)