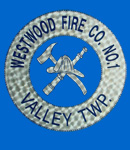 2015 Fire Call Stats
Jan
28
Feb
21
Mar
14
Apr
28
May
22
Jun
35
Jul
27
Aug
25
Sep
0
Oct
0
Nov
0
Dec
0
Total
200
2015 EMS Call Stats
A44
A144
Jan
112
109
Feb
89
106
Mar
104
97
Apr
94
113
May
95
98
Jun
82
92
Jul
100
95
Aug
96
94
Sep
0
0
Oct
0
0
Nov
0
0
Dec
0
0
Total
772
804
Past Call Stats
Year
Fire
EMS
2014
310
2388
2013
259
2294
2012
284
2045
2011
308
1278
2010
275
621
2009
304
639
2008
314
707
2007
321
663
2006
316
727
2005
344
796
2004
349
742
2003
388
625
2002
389
707

Visitors Today:

Visitors Since
September 16, 2005:




Rescue 44 Relocates to Longwood

EMS Chief Bill Dill, September 01

On September 1st, 2015 the Westwood Fire Company was dispatched for an engine to relocate to the Longwood Fire Company while they were assisting the Po-Mar-Lin Fire Company on a house fire in Pocopson Township.

Rescue 44 responded at 19:02 and arrived to meet the crew from the Concordville Fire Company (Delaware County) who also relocated with their Tanker.

The standby crew handled a fire alarm ... (Full Story & Photos)



Rescue 44 at Station 25.



This barn along Strasburg Road was heavily involved in fire at the time firefighters were dispatched

Barn Fire in East Fallowfield Township

Battalion Chief John Sly, August 23

On Sunday, August 23rd, 2015 the Westwood Fire Company was dispatched at 1141 to the 3100 block of Strasburg Road in East Fallowfield Township for reports of a barn on fire. Initial calls to 911 indicated that flames were coming from the roof of the barn and livestock was also inside the building.

In an unfortunate coincidence, just 40 minutes prior to this incident, a house fire response was dispatched ... (Full Story & Photos)


Fatal House Fire in Parkesburg

Deputy Fire Chief Randy Scott, August 15

At 4:53 AM Westwood was dispatched to a house fire assisting the Keystone Valley Fire Department on the 300 block of Main Street, Parkesburg Borough. Callers reported that the house was fully involved with "the family still inside."

Units arrived to find a three story triplex woodframe construction building. Firefighters encountered heavy fire conditions from middle of the row unit, and quickly began ... (Full Story & Photos)

11th Annual Valley Day

EMS Chief Bill Dill, August 09

On August 8th, 2015, the Valley Township Parks and Recreation Committee held their 11th annual Valley Day festivities. The event was held in the field off Airport Road located across from the Highlands Corporate Center, with many area residents in attendance.

There were vendors and various activities for kids and adults alike.

Westwood and our neighbors from Sadsburyville Fire Company cooperatively ... (Full Story & Photos)

Late Night Accident On The Route 30 Bypass

EMS Chief Bill Dill, August 02

On August 2nd, 2015 At 22:09 the Westwood Fire Company was dispatched to the Eastbound 30 Bypass for a reported auto accident.

Rescue 44, Ambulance 44-1 and Traffic 44 all responded shortly after the dispatch and were advised by the 911 center that the caller reported a two vehicle accident with 1 subject injured.

Ambulance 44-1 arrived at 22:18 and determined that only 1 subject was injured.

Rescue ... (Full Story & Photos)

Grill Fire On Mary Street

EMS Chief Bill Dill, July 26

On July 26th, 2015 At 13:29 the Westwood Fire Company was dispatched to Mary Street in Valley Township for a reported barbecue grill on fire.

Members who were cleaning up from our 2nd annual car show, made a quick response with Engine 44-5, Ambulance 44-1, and Traffic 44 shortly after the dispatch. Responding nits were advised by the Chester County 911 Center that the caller reported a barbecue ... (Full Story & Photos)

Engine Assist To Modena On a Working House Fire

EMS Chief Bill Dill, July 25

On July 25th, 2015 at 16:29 the Westwood Fire Company along with several other stations were dispatched for the engine to assist Modena Fire Company on a reported house fire in the 100 block of Bridle Path Lane in East Fallowfield Township.

Engine 44-5, Ambulance 44-1, Traffic 44, and Captain 37 all responded at 16:33 and were advised by the Chester County 911 Center that they were receiving several ... (Full Story & Photos)



Kennett Engine 24-2 and Rescue 44 on stand by at the Cochranville Fire Company. Photo by Katie A. Simmers

Rescue Standby At Cochranville Fire Company

EMS Chief Bill Dill, July 22

On July 22nd, 2015 Rescue 44 with a crew of 5 traveled to the Cochranville Fire Company for a standby. Cochranville Fire Chief Linenbaugh asked Westwood to provide a rescue crew for the evening as the Cochranville personnel worked their annual carnival.

Westwood personnel arrived at station 27 to meet with members of the Kennett Fire Company, who we would be working with for the night. Chief Linenbaugh ... (Full Story & Photos)