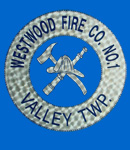 2016 Fire Call Stats
Jan
30
Feb
24
Mar
18
Apr
22
May
0
Jun
0
Jul
0
Aug
0
Sep
0
Oct
0
Nov
0
Dec
0
Total
94
2016 EMS Call Stats
A44
A144
Jan
94
122
Feb
92
101
Mar
81
127
Apr
0
0
May
0
0
Jun
0
0
Jul
0
0
Aug
0
0
Sep
0
0
Oct
0
0
Nov
0
0
Dec
0
0
Total
267
350
Past Call Stats
Year
Fire
EMS
2015
312
2329
2014
310
2388
2013
259
2294
2012
284
2045
2011
308
1278
2010
275
621
2009
304
639
2008
314
707
2007
321
663
2006
316
727
2005
344
796
2004
349
742
2003
388
625
2002
389
707

Visitors Today:

Visitors Since
September 16, 2005:




Inside Investigation at the Coatesville Moose Lodge

Firefighter/EMT Adam Grossman, May 27

Westwood Fire and EMS were dispatched at 1442 to the Coatesville Moose Lodge Friday May 27th, 2016 for the report of an electrical fire inside. Lodge personnel were on site reporting an odor of something burning inside the Ballroom area.

Fire units arrived on scene and investigated the reports, finding an odor and haze of smoke inside.

Wagontown Assistant Chief Patton assumed Command and Sadsburyville ... (Full Story & Photos)



Sadsburyville, Wagontown and Westwood Fire Companies on scene of an investigation on Airport Road.



Ambulance 144 on scene of an accident with entrapment on Route 10 in West Caln Township.

Dual Ambulance Response to West Caln Township

Firefighter/EMT Adam Grossman, May 26

Simultaneously, Westwood Ambulance 144 from Wagontown and Ambulance 44-1 from Westwood were on the street Thursday night responding to two serious medical emergencies in West Caln Township.

The first call came in at 2130 as an auto accident with entrapment on Route 10 South of West Kings Highway, Ambulance 144 immediately responded to render care. Once on scene it was confirmed there was a serious ... (Full Story & Photos)


Vehicle Rescue Training

Firefighter/EMT Adam Grossman, May 23

Firefighters continued their training series Monday with a focus on vehicle rescue. Vehicle accidents are a common call that summons firefighters to duty. Sometimes people can become trapped in their vehicle in an accident and rescue tools are needed to rescue them.

Rescue 44 is a 2006 Pierce Dash Rescue Pumper that carries 13 hydraulic rescue tools and 9 of those tools are pre-connected to onboard ... (Full Story & Photos)



Westwood Firefighters use hydraulic rescue tools for vehicle rescue during Monday night's training.



We received notification today that we have been selected to receive two more Federal grants for the purchase of equipment and establishment of health and wellness program

Double Grant Awards Generate A Quarter Million Dollars in Federal Funding

Battalion Chief John Sly, May 20

On Friday, May 20th, 2016 the Fire Company received official notification from the U.S. Department of Homeland Security that we have been selected to receive two Federal Assistance to Firefighters Grants in Round 3 of the 2015 awards cycle. Together, these grants awards total $268,645.

The first grant, in the amount of $59,395, will be utilized to provide health screenings, physical examinations, ... (Full Story & Photos)


Ambulance Division Volunteers and Employees Recognized for Life Saving Efforts

Firefighter/EMT Adam Grossman, May 19

On Thursday, May 19th, 2016 several volunteer members and employees of the Westwood Fire Company Ambulance Division attended the 12th Annual Awards Banquet for the Chester County Emergency Medical Services Council, Incorporated, held at the Kennett Fire Company's Red Clay Room. This event is also held in conjunction with National EMS Week!

Multiple volunteer members and employees of Westwood were ... (Full Story & Photos)



Westwood Ambulance Division volunteers and employees being recognized at the 12th annual EMS awards banquet for life saving efforts.



Westwood Firefighters ascending Ladder 8 with saws for the vertical ventilation segment.

Mutual Aid Training at an Acquired Structure

Firefighter/EMT Adam Grossman, May 16

Monday firefighters from three fire companies gathered for training at an acquired structure. The old Turkey Hill located at Routes 10 and 30, which at one time was the only gas station in town, was to be demolished the next day. Fortunately firefighters were able to take advantage of the structure before its D Day.

Firefighters had the opportunity to force entry, breach walls, pull ceilings and ... (Full Story & Photos)


Accident Involving Fire on Lincoln Highway

Firefighter/EMT Adam Grossman, May 16

On Monday May 16th, 2016 at 0932 Westwood EMS and Fire Police were dispatched to the 800 block of West Lincoln Highway in Valley Township for an auto accident, vehicle versus a telephone pole. Minutes later the assignment was upgraded to an accident involving fire. Battalion Chief Sly, Ambulance 44-1 and Traffic 44 were all responding.

Battalion Chief Sly arrived on location at 0938 and found an ... (Full Story & Photos)



Westwood EMS on scene of a motor vehicle accident in Valley Township.



Westwood firefighters extinguish an auto fire Tuesday in East Fallowfield.

Midday Auto Fire in East Fallowfield

Firefighter/EMT Adam Grossman, May 04

Tuesday at 1234 the Westwood Fire Company was dispatched to the 400 block of Doe Run Road in East Fallowfield Township for an auto fire. Calls to 911 indicated flames were coming from an automobile and nobody was believed to be inside of it.

Upon arrival of Ambulance 44-1, at 1250, our cross trained firefighter/EMTs used a portable fire extinguisher to knock down the fire. Rescue 44 arrived minutes ... (Full Story & Photos)