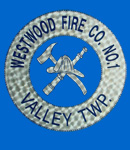 2016 Fire Call Stats
Jan
30
Feb
24
Mar
18
Apr
0
May
0
Jun
0
Jul
0
Aug
0
Sep
0
Oct
0
Nov
0
Dec
0
Total
72
2016 EMS Call Stats
A44
A144
Jan
94
122
Feb
92
101
Mar
81
127
Apr
0
0
May
0
0
Jun
0
0
Jul
0
0
Aug
0
0
Sep
0
0
Oct
0
0
Nov
0
0
Dec
0
0
Total
267
350
Past Call Stats
Year
Fire
EMS
2015
312
2329
2014
310
2388
2013
259
2294
2012
284
2045
2011
308
1278
2010
275
621
2009
304
639
2008
314
707
2007
321
663
2006
316
727
2005
344
796
2004
349
742
2003
388
625
2002
389
707

Visitors Today:

Visitors Since
September 16, 2005:





Westwood EMS on scene of a motorcycle accident in Valley Township.

Motorcycle Accident on Route 82 in Siousca

Firefighter/EMT Adam Grossman, April 25

Monday April 25th, 2016 at 1153 the Westwood Fire Company and Medic 93 were dispatched to Northbound Route 82 at the Route 30 Bypass in the Siousca Section of Valley Township for an accident involving a motorcycle. Calls to 911 reported one motorcyclists was down in the road. Battalion Chief Sly, Ambulance 44-1 and Medic 93-4 all responded immediately following dispatch.

Battalion Chief Sly arrived ... (Full Story & Photos)


Kitchen Fire in East Fallowfield Township

Deputy Fire Chief Randy Scott, April 13

On the morning of Tuesday April 12th at 0644 the Westwood Fire Company along with one Engine each from Modena and Sadsburyville Fire Companies and a Tanker from Cochranville Fire Company were alerted to the 200 block of Glenrose Road in East Fallowfield Township for reports of smoke in a home. As units responded they were advised that the caller was the neighbor who said the house was full of smoke, ... (Full Story & Photos)



Firefighters prepare to enter the structure to investigate a kitchen fire.



Emergency Responders rescuing and rendering care to a patient trapped in mud.

Dual Ambulance Response on Kingswood Lane Technical Rescue

Firefighter/EMT Adam Grossman, April 11

Multiple agencies were called to the scene of a technical rescue Monday in West Brandywine Township. At 1931 the Wagontown Fire Company and Westwood Ambulance 144 were dispatched to the 200 block of Kingswood Lane for a subject trapped in mud near a creek.

When the call was placed to 911 it was believed the patient had been stuck in the mud for upwards of two hours.

Responders arrived on scene ... (Full Story & Photos)


Assist to Wagontown on Hibernia Woods Fire

Firefighter/EMT Adam Grossman, April 06

Just after 1100 today firefighters answered the call for a woods fire in the unit block of Old Dam Road near Cedar Knoll Road in West Caln Township.

Wagontown Chief Ziegler arrived in the area and located a rapidly spreading woods fire a short time later. Due to access issues firefighters led off quickly by foot and hand tools to contain the fire before fire apparatus could make it to the remote ... (Full Story & Photos)



Firefighter/EMT Joe Kennedy using a chainsaw to find hot spots.



Engine 44-5 on the scene of a building fire in Modena Borough.

Building Fire at Sealed Air Corporation

Firefighter/EMT Adam Grossman, April 05

On Tuesday April 5th, 2016 at 1346 the building fire assignment went out for the unit block of Meredith Court in Modena Borough, a Modena Fire Company local. Also dispatched were Coatesville, Westwood, Sadsburyville, Cochranville, Coatesville VA and Chester County Haz Mat 15.

Building occupants reported the fire alarm activated and there was in active fire in the area of the loading dock. Prior ... (Full Story & Photos)


Training Covers Multiple Topics

Firefighter/EMT Adam Grossman, April 04

Sadsburyville and Westwood firefighters continued their training series Monday with hose line advancement, apparatus driving and operating and relay pumping.

Currently multiple firefighters from both stations are training to be qualified on various pieces of apparatus. Tonight was a test of their knowledge and skill as part of the lengthy process of driver qualification. When driving and operating ... (Full Story & Photos)



Rescue 44 in service pumping multiple hand lines.



ATV 44 was requested to assist in gaining access to a remote fire

ATV Assists at Barn Fire in West Fallowfield Township

Battalion Chief John Sly, April 03

On Sunday, April 3rd, 2016 the ATV 44 was special called at 1129 to assist the Cochranville Fire Company who was operating at a barn fire in the 300 block of Highpoint Road in West Fallowfield Township.

Units from Cochranville Fire Company and neighboring departments had been fighting the barn fire in windy conditions since just after 0900. Several small brush fires in a wooden area surrounding ... (Full Story & Photos)


Mulch Fire in East Fallowfield Township

Deputy Fire Chief Randy Scott, April 03

On the morning of Sunday April 3rd, 2016 at 0345 hours the Westwood Fire Company was alerted for a larch mulch fire at a local business in East Fallowfield Township.

Upon arrival of Deputy Chief Scott, he reported a very large pile of mulch actively burning. During the production process of making mulch it naturally creates heat within its piles. Due to the high winds and low humidity this evening, ... (Full Story & Photos)



Owner's Representatives arrived to work and bury the burning piles of mulch.