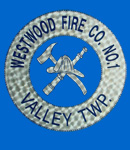 2018 Fire Call Stats
Jan
22
Feb
16
Mar
17
Apr
0
May
0
Jun
0
Jul
0
Aug
0
Sep
0
Oct
0
Nov
0
Dec
0
Total
55
2018 EMS Call Stats
A44
A144
Jan
123
144
Feb
104
139
Mar
98
125
Apr
0
0
May
0
0
Jun
0
0
Jul
0
0
Aug
0
0
Sep
0
0
Oct
0
0
Nov
0
0
Dec
0
0
Total
325
408
Past Call Stats
Year
Fire
EMS
2017
242
2562
2016
289
2484
2015
312
2329
2014
310
2388
2013
259
2294
2012
284
2045
2011
308
1278
2010
275
621
2009
304
639
2008
314
707
2007
321
663
2006
316
727
2005
344
796
2004
349
743

Visitors Today:

Visitors Since
September 16, 2005:





One tractor trailer overturned on the westbound side of the Route 30 Bypass.

Tractor Trailer Overturned on the Westbound Bypass

Assistant Fire Chief Adam Grossman, September 11

On September 11th, 2018 at 0341 the Westwood Fire Company and Medic 93 were dispatched to the westbound Route 30 Bypass east of Route 82 for an auto accident with entrapment. Initial reports indicated a tractor trailer overturned and the driver was still trapped inside. Rescue 44, Ambulance 44-1, Deputy 44, and Medic 93 all made an immediate response.

Arriving at 0349, Medic 93 confirmed the report ... (Full Story & Photos)


Late Night House Fire in Rockrun

Deputy Fire Chief Randy Scott, August 03

On August 1st, 2018 around 00:00 hours, units from Westwood Fire Company along with Sadsburyville and Wagontown Fire Companies were alerted to a reported house fire in the 900 block of Wagontown Road in the Rock Run section of Valley Township.. Upon arrival of Deputy Chief Scott he reported a 2 story duplex with light smoke showing from division 1 on the "Charlie" side of the structure. Deputy Chief ... (Full Story & Photos)



Firefighters arrive and begin to pack up and advance in the structure.


Member Attend Continuous Education Training

Westwood EMS Division, April 24

Tonight, members of Station 44 and Ambulance 144 joined mutual services in attending a con-ed training event held at The JeffSTAT3 Hangar at Brandywine Hospital. Dr. William Hughes from The Jefferson Burn Center taught the class the latest trends in caring for burn and trauma patients. A meal was provided to all those in attendance. We thank Dr. Hughes for taking the time to come out and keep our ... (Full Story & Photos)


Barn Fire in East Fallowfield

Assistant Fire Chief Adam Grossman, April 21

In the morning of Saturday April 21st, 2018 at 0405 the Westwood Fire Company was dispatched for a barn fire in the 900 block of South Caln Road assisting the Modena Fire Company. Initially area fire departments were dispatched for a barn fire, upon arrival it was confirmed a working barn fire and a first alarm tanker task force was requested summoning Engine 44-5.

Engine 44-5 arrived at 0422 with ... (Full Story & Photos)



A barn was fully engulfed in flames on South Caln Road in East Fallowfield Township.



Westwood firefighters arrive and back up Sadsburyville firefighters making a stop on the fire.

Mutual Aid Assist on Sadsburyville Structure Fire

Assistant Fire Chief Adam Grossman, March 19

A structure fire was dispatched at 1354 hours for the 500 block of Lissie Lane in Sadsbury Township. Westwood and Wagontown Fire Companies and the Keystone Valley Fire Department were dispatched to assist the Sadsburyville Fire Company. Engine 44-5 and Ambulance 44-1, made an immediate response.

Engine 44-5 arrived as the 1st due water supply and provided water for Engine 31-1 and Engine 31-2 already ... (Full Story & Photos)


Seeking Part-Time Business Manager

President John Sly, March 08

The Westwood Fire Company is currently searching for a part-time Business Manager to assist with administrative tasks which are an integral part of our operation.

The Fire Company is presently governed by a volunteer Executive Board and is managed by a combination of volunteer and career personnel for day-to-day operations.

We are seeking qualified individuals with experience and/or knowledge in ... (Full Story & Photos)



A well-involved vehicle was on fire just feet from a house

Beacon Hill Auto Fire

Fire Chief Michael McWilliams, January 23

An automobile on fire in the 300 block of Revere Court, Valley Township, summoned the Westwood Fire Company to respond. A call to 911 indicated an automobile was on fire with exposure to a house.

Deputy Chief Scott on arrival reported an automobile fully involved with exposure to two other vehicles and a structure 20' away. Deputy Chief Scott assumed the Revere Court Command.

Engine 44-5 arrived ... (Full Story & Photos)


Early Morning Bypass Accident

Assistant Chief Adam Grossman, January 18

On January 18th, 2018 at 0759 the Westwood Fire Company and Washies EMS was dispatched to the Route 30 Bypass eastbound east of Route 82 for an auto accident. Rescue 44, Battalion 44 and Ambulance 41-4 all made the response.

Arriving at 0805 Battalion Chief Sly reported a two vehicle accident off to the shoulder during the busy rush of the morning. Arriving at 0810, Rescue 44 took a position blocking ... (Full Story & Photos)