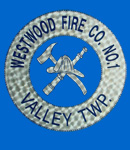 2013 Fire
Call Stats
Jan
20
Feb
11
Mar
15
Apr
28
May
18
Jun
41
Jul
26
Aug
17
Sep
19
Oct
25
Nov
20
Dec
0
Tot.
240
2013 EMS
Call Stats
AMB
44
144
Jan
83
112
Feb
78
91
Mar
87
102
Apr
79
97
May
107
112
Jun
108
109
Jul
108
99
Aug
77
109
Sep
86
99
Oct
103
92
Nov
78
93
Dec
0
0
Tot.
994
1115
Past Call Stats
Year
Fire
EMS
2012
284
2045
2011
308
1278
2010
275
621
2009
304
639
2008
314
707
2007
321
663
2006
316
727
2005
344
796
2004
349
742
2003
388
625
2002
389
707
2001
375
647

Visitors Today:

Visitors Since
September 16, 2005:




Busy Holiday for Westwood Fire Company

Fire Chief Michael McWilliams, December 06

On Thursday, November 28, 2013, at 0707, the Westwood Fire Company was dispatched to the 100 block of Mount Airy Road for a vehicle accident, with unknown injuries. Chief 44 responded, and was advised by Chester County Dispatch that the incident was being upgraded to a vehicle accident, with entrapment and possibly involving fire. This summoned Brandywine Hospital Medic 93, and Wagontown Rescue ... (Full Story & Photos)

Tanker Assist in East Bradford

Firefighter Brandon Dague, November 15

On Friday, November 15th, Engine 44-5 was alerted as part of a Tanker Task Force at a working house fire on Fairview Ave, in East Bradford Township.

Engine 44-5 responded with a crew of four and assisted with manpower and tanker operations.

Crews reported into the incident commander and assisted with making an attack on the fire and overhaul operations.

Engine 44-5 was on standby at the fill ... (Full Story & Photos)


Training Night: Ropes and Knots

First Responder Michelle Martin, November 13

On Wednesday November 13, 2013, members gathered for the weekly training session. On this night, members conducted ropes and knots training lead by Captain BJ March.

Crews reviewed the basic knots that are essential to our everyday operations. After practice tying knots, crews reviewed rigging different types of rescue systems, such as the "z-rig". To conclude training, crews reviewed the top technical ... (Full Story & Photos)


Captain March demonstrates during training session.


Westwood Units in line for the parade.

Coatesville Veteran's Day Parade

Firefighter/EMT Bill Dill, November 08

On Friday, November 8th 2013, Westwood Fire Company units attended the 2013 Coatesville VA' Veteran's Day Parade.

Several area fire companies were also in attendance along with floats, sports mascots, and local school bands.

The parade route took the one mile trip around the campus of the VA Medical Center, as hundreds of Veterans and onlookers waved their flags proudly.

We would like to extend ... (Full Story & Photos)


Live Burn Training with Modena

First Responder Michelle Martin, November 02

On Saturday, November 2nd, Westwood Fire Company participated in a burn drill with Modena and West Bradford Fire Companies at the West Chester Training Facility.

Upon arrival, crews were split up into three different groups to focus on first floor fire attack, second floor fire attack, and Rapid Intervention Team (RIT) in case a firefighter went down. Crews encountered multiple fires on multiple ... (Full Story & Photos)


Firefighter Celii prepares to make entry.


Hoseline Advancement Training

First Responder Michelle Martin, October 28

On Monday, October 28th, Westwood personnel participated in Hoseline Advancement training along with Modena Fire Co. (Station 37). The training was led by Todd "Chip" Bryant at the Veterans Affairs Hospital in Coatesville.

The training started with a tour of the VA Fire Department (Station 76) firehouse and and procedures to follow for a standby. Firefighter Bryant went over procedures for using ... (Full Story & Photos)

Fire Prevention with Station 31

Firefighter/EMT Joe Kennedy, October 12

On Saturday October 12th, 2013 members from the Westwood Fire Company and Sadsburyville Fire Company, attended a fire prevention activity at the Tractor Supply Company in Parkesburg.

Various fire apparatus from both fire companies, as well as the Sadsbury Township Police Department were on display, along with the fire prevention trailer from the Kennett Fire Company.

Several demonstrations were ... (Full Story & Photos)


Motor Vehicle Accident on Doe Run Road

Assistant Fire Chief Randy Scott, October 11

On the evening of Monday October 7th, Westwood Fire Company was dispatched for a motor vehicle accident on Doe Run Road in the area of Newlinville Road. Rescue 44 and Ambulance 44-1 responded 4 minutes after dispatch.

Assistant Chief Scott arrived and reported a two vehicle accident blocking both lanes of Doe Run Road with one occupant laying in the roadway. Assistant Chief Scott assumed "Doe Run ... (Full Story & Photos)