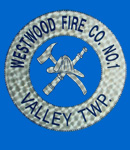 2023 Fire Call Stats
Jan
27
Feb
31
Mar
30
Apr
37
May
26
Jun
46
Jul
29
Aug
31
Sep
31
Oct
31
Nov
Dec
Total
319
2023 EMS Call Stats
EMS
Jan
481
Feb
452
Mar
529
Apr
606
May
516
Jun
575
Jul
582
Aug
629
Sep
653
Oct
606
Nov
Dec
Total
5629
Past Call Stats
Year
Fire
EMS
2022
320
5349
2021
295
3887
2020
272
3391
2019
275
2788
2018
249
2923
2017
242
2562
2016
289
2484
2015
312
2329
2014
310
2388
2013
259
2294
2012
285
2045
2011
308
1278
2010
275
621
2009
304
639

Visitors Today:

Visitors Since
September 16, 2005:


Guestbook
Welcome to the Westwood Fire Company Guestbook. Your feedback is important to us. Feel free to leave your comments.
| | |
| --- | --- |
| Page of 7 [ Back | Next ] | Records 1 - 30 of 199 |
Signed on December 12, 2017 at 4:48 PM
Guest Name:
Cindy Lou Altman
Location:
West Caln (Coatesville)
Comments:

I want to thank the two EMS ladies and police officers who responded on Friday 12/08 and the two EMS gentlemen on Sunday 12/10 to transport me to Chester County hospital. Without all your help to calm us down during this scary time!!!
Signed on February 10, 2016 at 8:12 AM
Guest Name:
Paul Cox
Location:
Valley Township, Lancaster Avenue (Rte. 30)
Comments:

I would like to thank the crew that saved my life, August 19, 2014. I was riding my motorcycle Eastbound on Route 30 near EBY's auto body when a distracted driver (headed West) swerved out of her lane and hit me head-on. I suffered from a broken back, ribs, crushed hips and internal injuries.

You saved my life ! The broken back could have been complicated by a broken spinal column, however I was moved carefully. The doctors said I should never walk again, however I am walking with a cane.

I was in the hospital and rehabilitation for 12 months. Approximately 1 year later I was allowed to move home.

I will come visit one day soon to thank those who helped me, but in the mean time thank you so much........

Paul C.
Signed on February 02, 2015 at 4:16 PM
Guest Name:
Shar stewart
Comments:

Enjoyed coming to your firehouse on Saturday night. A great group of helpful and kind individuals.
Signed on October 13, 2014 at 4:08 PM
Guest Name:
Jen Dyson
Location:
Chester Springs, PA
Comments:

On August 19th, a young driver veered into oncoming traffic and struck my boyfriend who was on his motorcycle at the time. He had a crushed pelvis, broken ribs, and a very bad back fracture which, I was later told, was dangerously close to being paralyzing.

The Westwood team was crucial in their role of carefully getting him to a trauma center without further injury and stabilizing his back. I could never thank you guys enough for your care in moving him. You were the first in a long series of heroes all with the goal of returning him to a full life. Thank you again!

The residents of this community are lucky to have professionals of your caliber there when needed.
Signed on October 08, 2014 at 8:10 PM
Guest Name:
John H. Maury
Rank/Title:
Retired from Boca Raton, Florida - Fire Rescue
Location:
The Villages, Florida
Comments:

Just wanted to comment on the beautiful color scheme of your apparatus.
Signed on June 25, 2014 at 7:52 AM
Guest Name:
Jean Steiner
Location:
Coatesville, PA (Valley Township)
Comments:

It warmed my heart to hear of the duck rescue at the Bottom Dollar Store parking lot. I'm an animal lover and like to see all of God's creatures safe and sound. THANK YOU so much for caring for our wildlife.
Signed on March 10, 2014 at 4:34 PM
Guest Name:
Steve D
Rank/Title:
State Fire/Rescue Instructor
Location:
D-Town
Comments:

Just saw the pictures from the South Coatesville entrapment call with Modena from Sunday morning. I was impressed (for what its worth) to see the great rescue tool placement and "A-post" cut. Great job and keep up the good work!
Signed on December 27, 2013 at 8:39 AM
Guest Name:
Brenda
Location:
Westwood
Comments:

I just wanted to say "Thank you" to Tory and the young gentlemen (sorry I forgot his name) on the ambulance on Christmas Day. Thank you for your promptness and professional care you gave me and calmed me down and spoke to my Mother very respectfully. I appreciate the great service I received. Thank you again.
Signed on July 22, 2013 at 1:56 PM
Guest Name:
Sue Dunlap Junkins
Rank/Title:
Great Niece of George Dunlap
Location:
Jacksonville, Florida
Comments:

The site looks GREAT!!! This station has come a long way!
Signed on October 17, 2012 at 9:38 AM
Guest Name:
Monte Gill
Rank/Title:
Life member
Location:
Bay St Louis, Ms. (currently in Westwood)
Comments:

I would like to thank Westwood Fire Company especially George Morris and Jen Devine for the prompt response and care while transporting my mother (Sara Liberatore) to Brandywine Hospital after she fell and broke her hip Monday night. Thank You, Monte Gill
Signed on September 26, 2012 at 2:44 PM
Guest Name:
Kevin Schmied
Location:
Highland Township
Comments:

Just moved into the area after 18 active years as a Firefighter/EMT, EMS Lieutenant, and Fire Lieutenant at Goshen. Coming soon to Westwood!
Signed on June 29, 2012 at 10:17 PM
Guest Name:
Eric Trubilla
Rank/Title:
Flight Paramedic
Location:
PennSTAR Flight - Reading Base
Comments:

I was recently requested by your EMS unit to assist on an accident and I just wanted to comment on how professional and amazing your crew was. The patient was a difficult case to say the least and they handled themselves amazingly! If you could please pass on to them and the ALS unit we as the flight crew appreciated their hard work and efforts I would greatly appreciate it and keep up the good work!
Signed on June 23, 2012 at 8:17 PM
Guest Name:
Brian Killian
Rank/Title:
Firefighter
Location:
Coatesville, PA
Comments:

Westwood Fire Company does great things for Valley Township and East Fallowfield Township. Keep up the good work guys!
Signed on March 15, 2012 at 2:57 PM
Guest Name:
Dawn P. Maiorano
Rank/Title:
ER NURSE
Location:
Valley TWP
Comments:

You guys are the best!! Especially Erin & Chris Biddle. Our church had a big freind day and they had the fire engine and ambulance and it was a wonderful time for the children..!! GOD BLESS YOU ALL!!!! STAY SAFE!!
Signed on September 23, 2011 at 5:49 PM
Guest Name:
Jimmy Hensley
Rank/Title:
Training Director
Web Address:
www.cccfiretraining.com
Location:
Shelby, NC
Comments:

Great site! I was looking for information on Plymovent Systems in a real hurry. Your site helped me with all I needed! Your system and station look really good. Keep up the good work.
Signed on September 23, 2011 at 12:28 PM
Guest Name:
Havard Root
Rank/Title:
Past Westwood Firefighter
Location:
Rockwood, MI
Comments:

Very impressive web site. When I moved from Westwood in 1966, Richard Herman was Chief and Bill Barker was Captain. I was surprised to see the newspaper article when Ross Darlington and I were recognized. Believe it or not, I still have those boots. My brother Bill retrieved them from my Mother's (Nanie Root) house after the fire. The last time I was at the firehouse was after the fire at Mom's house. I talked with Bob Gathercole who was Chief at the time. The history section and pictures brought back many memories. The Fire Company has made impressive improvements over the years. I like the blue equipment. God Bless and watch over the Westwood firefighters.
Havard Root (Rootie)
Signed on July 11, 2011 at 9:32 PM
Guest Name:
Donna
Comments:

Thank you to all of the volunteers but especially to all involved in the search and rescue on Saturday, July 9th. You helped save my Dad's life. You are all heroes in my book!
Signed on May 31, 2011 at 4:28 PM
Guest Name:
David Turner
Rank/Title:
President/CEO
Web Address:
davidsdrive831.org
Location:
Coatesville, PA
Comments:

David's Drive 831, Inc. was escorted by the Westwood Fire Company to the Coatesville VA on Memorial Day. Thousands of underwear, socks and t-shirts were to dropped off to our hospitalized Veterans in memory of David B. Turner, Jr. Thank you for the escort and for helping unload!
Signed on December 12, 2010 at 4:46 PM
Guest Name:
Charles Stanford
Rank/Title:
Fire Chief
Web Address:
rheemsfire.com
Location:
Rheems, PA
Comments:

Just wanted to drop a note to thank your personnel for the exceptional hospitatlity and enthusiasm during the Special Vehicle Rescue Class. It was truly a pleasure to work with you and your members. I look forward to coming back down to do the 1006 Classes with Chief Rohrer. I hope that the holidays are happy and peaceful for you and your organization. Stay safe.

Chuck
Signed on November 03, 2010 at 9:03 AM
Guest Name:
Randy Sheeler
Location:
Downingtown, PA
Comments:

While visiting my parents, I drove past the firehouse that I grew up with my entire life. I remember when Westwood was truly the pace to be, a great little community that was full of life, full of family. Hearing that fire whistle blow is a memory I'll never forget. I remember visiting the firehouse as a child with my Dad, Harry Sheeler Jr., and my Uncle Bill Proffit and sitting with Chetty Taylor reminiscing about the good old days in Westwood. Times have changed, but the pride you show as a fire unit is truly impressive. Congratulations on many years of great progress, commitment and strength and through your honoring of Chetty.

Randy
Signed on February 27, 2010 at 10:14 AM
Guest Name:
Lou Ann Gmuca
Comments:

I recently attended your special Valentine's Bingo Marathon. My daughter and I attended for the first time, as we both needed a "Bingo Fix" since we had not played in three weeks due to the weather. I found the advertisement online and we decided to give it a try. All I have to say is WOW!!! We had the best time!! It was well organized, the food was outstanding, the people were friendly, and well worth the $45.00. I will definitely come back again but this time bring a little more $$$$$.
Signed on February 08, 2010 at 5:18 AM
Guest Name:
Tibor Lorinc
Web Address:
www.firemantibor.estranky.sk
Location:
Slovakia
Comments:

Hello. My name is Tibor and I am Firefighter in Nitra, a city in Slovakia.

Your web page is very nice and interesting.

I wish you a lot of success in your future work. Greetings from Slovakia!

Tibor Lorinc
Signed on February 06, 2010 at 12:10 PM
Guest Name:
Captain T. Leslie
Rank/Title:
Captain
Location:
Keno, Oregon
Comments:

Love the web page! I dropped by to show some love to fellow volunteers. Be safe and God Bless.
Signed on January 30, 2010 at 8:14 AM
Guest Name:
Donna Marie Clark
Rank/Title:
Citizen
Location:
Valley Township
Comments:

I would to see a donation link on your website! You guys (men & women) are great!!!
Signed on January 02, 2010 at 6:04 PM
Guest Name:
Rob Brown
Rank/Title:
Firefighter/EMT
Web Address:
www.mvfd80.org
Location:
McGaheysville, VA
Comments:

I stopped by the station the other day in regards to buying a t-shirt. When I arrived, I was greeted by fellow firefighters working on the Rescue/Engine. They showed me around and gave me great information about the station and the apparatus. You guys do an excellent job with the website also. I was really impressed by the people there. Iit seems like a very well organized company. Stay safe and thank you guys from your brothers in Virginia.
Signed on November 18, 2009 at 11:47 AM
Guest Name:
Elizabeth Zanowiak
Location:
West Brandywine Township
Comments:

I was looking for something else and I found your very impressive website. Very professional and informative. I will be happy to support you and your services. Thank you for your dedication and willingness to serve others.
Signed on October 27, 2009 at 5:35 PM
Guest Name:
Charles Howe
Rank/Title:
Police Officer/Firefighter and Braun Team Member
Location:
Van Wert, Ohio
Comments:

I really enjoyed working on the new truck and getting to work with Deputy Chief Sly. He is a real nice person and you should be glad to have a man like this on your department. I look forward to seeing pictures on here after it is lettered.
Signed on August 25, 2009 at 1:24 AM
Guest Name:
Arianna
Web Address:
www.myspace.com/ariannaleigh162
Location:
Chambersburg, PA
Comments:

I look at this site at least once a week. My dad, Ernie Johnson III, was a member before he died back in 2000. He used to take my sister and I over to the firehouse when we were little. I loved it there. I love how big the firetrucks seemed and the color because its not the usual color. I miss going there when I come down to visit my family. I loved the atmosphere there, it was exciting. You guys are doing a great job and stay safe.
Signed on August 13, 2009 at 4:38 AM
Guest Name:
William Byerly
Location:
Newark, De.
Comments:

I just found this web page. I lived in Westwood (a great place to live) during the late 40's until the early sixties. As a matter of fact, while reading the history of the fire company, it brought back a lot of names of people I knew. I spent a lot of time at the fire house while I was young. My father was Howard Byerly one of the original members and the first president of the fire company.

I remember being there when they were building the first fire house. My father was in charge of the construction of the building and, as a very young boy, I would tag along with him during those times, thinking that I was really helping. I was probably more in the way than anything. But, they were great memories.

I read in your history that you still have some of the original minutes of the first meetings. I'd like to come by some time, if I could, and read them. I'm sure they would bring back a lot of memories that I have forgotten. I was also there at those first meetings.

You've made great progress since those days. I wouldn't expect anything less from people in Westwood. They were always the best!

Bill Byerly
Signed on June 30, 2009 at 8:51 AM
Guest Name:
Elliot B. Riebman & Geri Riebman
Rank/Title:
Former Owner of Coatesville Scrap Iron & Metal, Inc.
Location:
Fort Myers, Florida
Comments:

To Westwood Fire Company #1 of Valley Township: Our entire family was so saddened to hear about Chetty. A very close friend; as well as one of the most respected men in the entire community, as well as region. I personally knew Chetty many years ago, sharing jokes, and just having fun together. Chetty was a man that made you learn the "REAL WORLD" at a very young age, because of his serious side. Chetty always was admired by everyone, for his loyal concern for the beautiful community. When needed, Chetty was always there. I remember still today, on a Saturday, that we always opened until about 2 o'clock for processing scrap iron for Lukens Steel Company. We always filled any order that Lukens Steel had received via our yard. As you well know, our machinery was going all day long, to produce tonage for Lukens, when the open hearths or electric furnaces got hungry. We were and still are direct processors for Lukens, ever since Harry Riebman, and Mr. Samuel and Mrs. Harriet Houston founded Lukens. Our families were very good friends, and like Chetty will always be friends. Well our beloved friend, you are now in a very special place in heaven now. You are with God and his Angels to look after you now. May God Bless you and your entire family in this delicate time of need. Goodbye, our friend. Elliot Riebman & Family
| | |
| --- | --- |
| Page of 7 [ Back | Next ] | Records 1 - 30 of 199 |