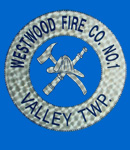 2023 Fire Call Stats
Jan
27
Feb
31
Mar
30
Apr
May
Jun
Jul
Aug
Sep
Oct
Nov
Dec
Total
88
2023 EMS Call Stats
EMS
Jan
481
Feb
452
Mar
529
Apr
May
Jun
Jul
Aug
Sep
Oct
Nov
Dec
Total
1462
Past Call Stats
Year
Fire
EMS
2022
320
5349
2021
295
3887
2020
272
3391
2019
275
2788
2018
249
2923
2017
242
2562
2016
289
2484
2015
312
2329
2014
310
2388
2013
259
2294
2012
285
2045
2011
308
1278
2010
275
621
2009
304
639

Visitors Today:

Visitors Since
September 16, 2005:


By Westwood Newsdesk
May 30, 2022
This morning we were honored to be included in a parade bringing supplies to the Coatesville VA Medical Center by David's Drive. Please join us in thanking this great organization that is very dedicated to helping veterans in the community.
We wish all a happy and safe Memorial Day. Please be sure to take a moment and remember the fallen who have sacrificed so much for the freedoms our Nation enjoys every day.